WHEELS
FEATHERLIGHT ZEPHYR DISC (CLD)
Race ready. Our 60mm deep and full carbon clincher is designed to go fast. Unlike the old days toroidal shaped rim is aerodynamic, with un un-compromised handling in crosswinds - the Zephyr is ready to rock your local bunch ride everyday or put your hands in the air on race day.
We are hugely proud of what we've been able to achieve with our Featherlight wheels. Over the past few years, in what has become a flooded market, we wanted to do something special with our new range of wheels to set us apart from the rest... New moulds, new, incredibly advanced building techniques, a partnership with White Industries and a new 220 degree patented resin - that we use throughout the complete construction on the wheel - I feel we have produced one of the best boutique wheels on the market.
We purchase the carbon in single strands fibres, then weave the carbon fibre strands with a patented 220 degree resin - exclusive to our factory.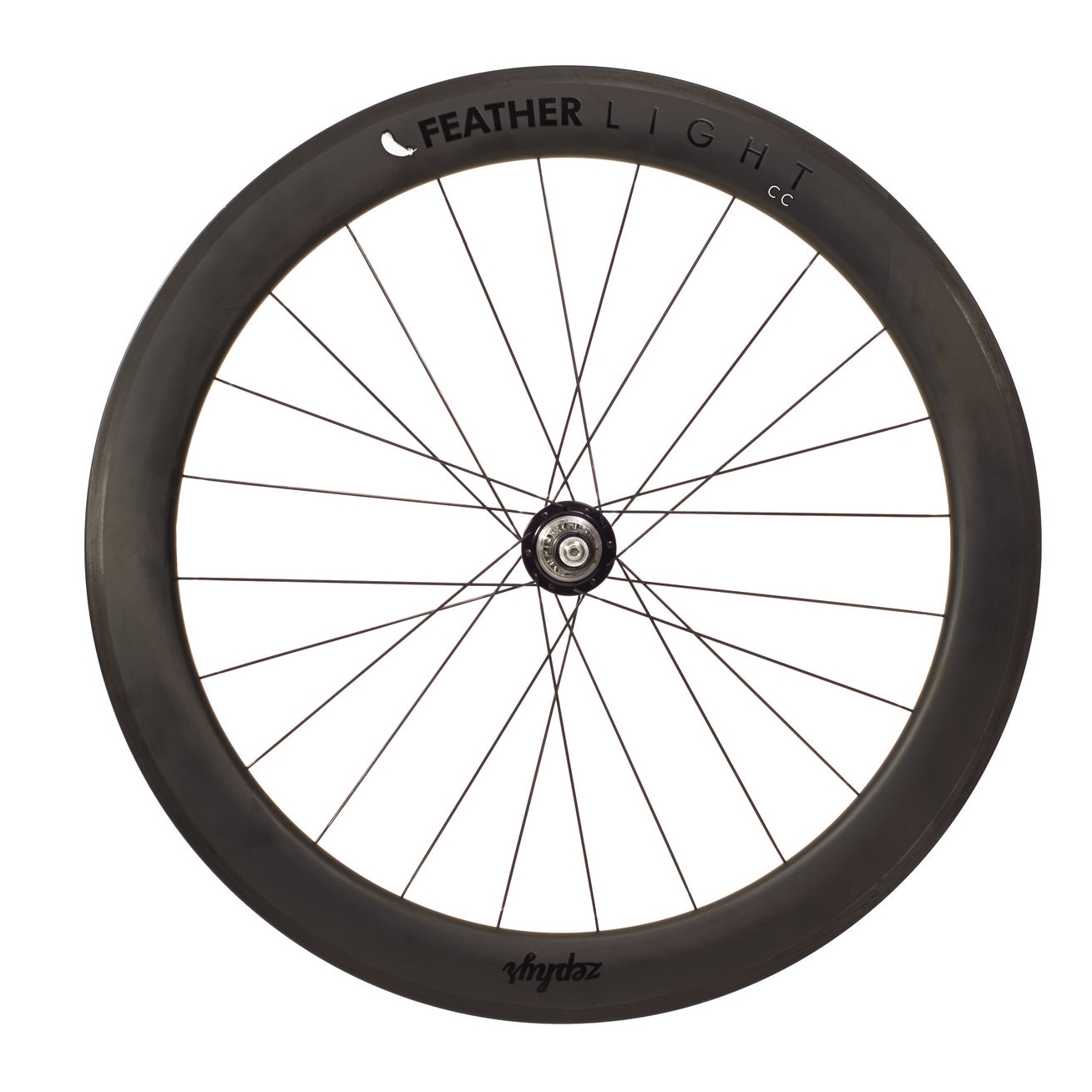 Additional Info
White Industries was founded in 1978 when owner and president, Doug White, had aspirations to develop, manufacture, and market bicycle products of his own design. One of the first products brought to the market was an elasticated leg band named Pegger which wrapped around ones pant leg keeping clothing free from chain grease. White Industries, however, was destined for much more. Doug, a master machinist by trade, utilized his training as a machinist and blended those skills with his passion for cycling creating the famous White Industries components known throughout the world today. All our products are manufactured in our Northern California manufacturing facility, and we are proud to able to say that our components are made in the USA.
The CLD, Center Lock Disc, is the newest in our line of disc hubs. The splined disc interface has allowed us to make our lightest disc hub to date without sacrificing any durability. The CLD hubset is compatible with all Shimano center lock discs including the Ice 140mm rotors. The CLD comes in a low spoke count of 24h and available in hole drilling sizes up to 36h accommodating most rims. Available in QR compatible or 15mm front/12x142mm rear thru compatible. The ease of removing and reinstalling the disc rotor along with the other benefits center lock disc brake systems offer to the rider makes this hubset perfect for your next road, cyclocross, or mountain disc bike.
CX-RAY
As light as a titanium spoke
The CX-Ray still receives the best results in fatigue testing of any spoke. Its unique strength and flexibility make the CX-Ray suitable for most bicycle disciplines. The middle section of the spoke is drawn then pressed in a special mold to form its specific profile. CX-Ray spokes are used by top bike racers and triathletes around the world. Even downhillers use them, recognizing their strength and flexibility. Special alloy treatment and sophisticated production make this all possible. The CX-Ray fits is all standard hub holes.
No more extra hub hole design; the hub manufacturer's guarantee is unaffected.
Almost as light as Titanium.
More long lasting than any other spokes on the market.Extremely high fatigue test results
Special alloy treatment and sophisticated production.
The best aerodynamic spoke available.
Produced from high-tensile, fatigue-resistant 18/8 stainless steel conforming to the Sapim quality standard specifications.
Available from 182 mm to 310 mm in even lengths.